【If you want to taste raclette cheese !!】 Barbal booming course 120 minutes with unlimited drinks 4,200 yen
Course details
【If you want to taste raclette cheese !!】 Barbal booming course 120 minutes with unlimited drinks 4,200 yen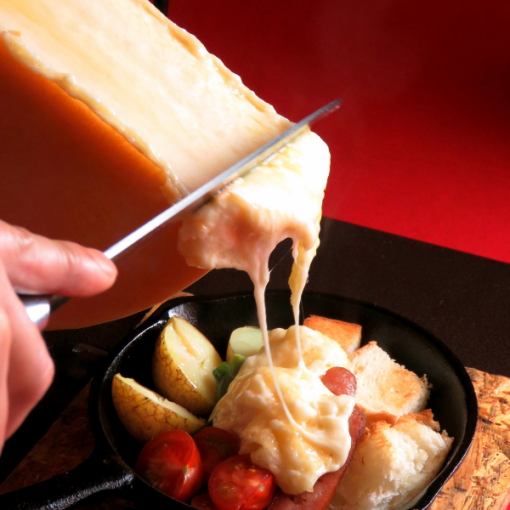 By using a coupon4200 yen
All-you-can-drink available

※ Last order is 30 minutes ago.I'd like to change the glass.
Reservation deadline

Until 15 o'clock on the desired date of visit
Available days for reservation

Monday - Sunday - Public holidays - Holidays
Ideal for dinner on special occasions ♪ Special course to taste the Valver's signage menu "Raclette Cheese"!
Course menu
【Balbal Economy Course】 120 minutes with all you can drink 4,200 yen ※ reservation is required.
To a good memories with a wonderful companion, a special dinner with the important one!
It is perfect for company banquets ♪ best reward for everyone who works hard!
Melt in front of you 【Raclette cheese】 SNS shine inevitably!
We composed seafood and meat / vegetables in a well-balanced manner.
■ Frit platter assorted
■ Fresh fish carpaccio ~ Orange flavor ~
Assortment of raw ham and cheese
Shrimp and baby scallop ahillo
■ Raclette cheese chicken
■ Carbonara with bacon and seasonal vegetables
■ Assortment of 2 desserts
All-you-can-drink menu
·beer
· Tempo Supreme <Raw>
· Beer (+ 300 yen plan)
·Heartland
·whiskey
· White Horse (Rock · Soda)
· Whiskey (+ 300 yen plan)
· Lemon High Ball · Ginger High Ball · Cork High Ball
· Shochu
· Black Kirishima 【potato】 / Hakata no Hana [wheat] / white water [rice]
· Shochu (+ 300 yen plan)
- Variety of abundant split materials can be chosen!
·Fruit wine
·Plum wine
· Fruit wine (+ 300 yen plan)
· Litchi liquor / cider / lemon sauce / blueberry sake
·wine
· House wine (red · white)
· Wine (+ 300 yen plan)
Sangria sparkling wine / Sangria red (+ orange & cassis) / sangria white (+ grapefruit & pine & orange) / sangria rose (+ strawberry & cherry & pink grapefruit) / sangria sparkling red / Sangria sparkling white
· Wine cocktail (+ 300 yen plan)
· Cardinal (Red Wine + Cassis) / Tinto de Bellano (Red Wine + Soda) / Kitty (Red Wine + Ginger Ale) / Kalimo City (Red Wine + Coca · Cola) / Kiel (White Wine + Cassis) / Symphony (White Wine + Peach ) / Splitzer (white wine + soda) / operator (white wine + ginger ale)
· Sparkling cocktail (+ 300 yen plan)
· Mimosa (Sparkling + Orange) / Titian (Sparkling + GFJ) / Kiel Royale (Sparkling + Cassis)
·Cocktail
· Shandigafu / Gin tonic / Jinbac / Jin Ricky / Vodka tonic / Moscow com / screw driver / bulldog / fuzzy group / peach pine / reggae punch // cassis orange / cassis grapefruit / cassis soda / cassis oolong
· Cocktails (+300 yen plan)
· Calamilk / Malibu Pine / Malibu Milk / Malibu Coke / Tequila Tonic / Tequila Sunrise / Mexicoque / Rum Coke / Lamb Orange / Lamb Grapefruit / Silver Mojito / Orange Mojito / Gold Mojito / Black Mojito / Tinzano Rock / Tinzano Cassis / Tinzanosoda
·Non-alcoholic cocktails
· Lemon Squash / Lime Tonic
· Non alcohol (+ 300 yen plan)
· Shirley Temple / Pink Noise / Cinderella / Caramel Milk / Cassis Orange / Cassis Soda / Cassis Grapefruit
·Soft drink
· Coca · Cola / Ginger Ale / Orange Grapefruit / Oolong Tea /
· Soft drink (+ 300 yen plan)
· Pine Juice / Coffee / Tea / Apple Tea / Peach Tea (Ice · Hot)
Coupons that can be used with this course
2019/01/15 update